Aquarian Age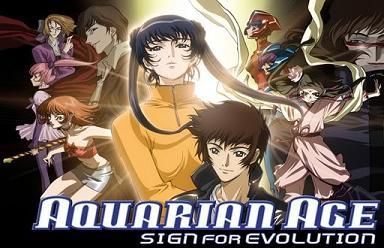 Aquarian Age: Sign For Evolution ~
It all starts on December 30 200X…Kyouta and his friends Shingo and Junichi are trying to become professional musicians. They are
going to perform at a New Year's show, and invite along Kyouta's childhood friend Yoriko. An agent from the agency Cosmopop sees
them and offers to manage their debut. Afterwards, things start to get strange. At the New Year's show, Yoriko notices three strange
colored rectangles fighting in the sky and her head starts to hurt. Soon after, Yoriko tells Kyouta it would be better if they didn't see
each other anymore, so he decides to give a final performance along with his band in an empty parking lot.

Aquarian Age Movie ~
Three powerful organizations operated on Earth for so many years, WIZ-DOM, Arayashiki, and Darklore. Alien Erasers invaded
during the age of Aquarius but a fourth organization has appeared, E.G.O. It's purpose to unite the other three organizations
and help defeat what they have in common, to defeat a common foe that they are all after. Representatives of each
organization would have to gather and find a way to defeat the new invaders.
Title

Episodes

Quality
Language
Aquarian Age: Sign For Evolution

1-5

DVD

Dub/Sub/Raw

6-9

DVD

Dub/Sub/Raw

10-13

DVD

Dub/Sub/Raw

Aquarian Age

Movie

DVD

Dub/Sub/Raw
Japanese Name

English Name

Total Episodes

Total Movies

Completed?

Akuerian Eiji: Sign For Evolution

Aquarian Age: Sign For Evolution

13

Yes

Akuerian Eiji

Aquarian Age

1 (OVA Movie)

Yes
Aquarian Age: Sign For Evolution
Season

Series

Episode Name

OVA

Ep. 1

Deep-Blue Overture

Ep. 2

Fire-Green Premonition

Ep. 3

Cloudy-Red Melancholy

Ep. 4

Concealment-Black Offering

Ep. 5

Sparkling-White Inevitability

Ep. 6

Illusion-Green Salvation

Ep. 7

Deep-Red Offshoot

Ep. 8

Light Purple Awakening

Ep. 9

Fierce-Silver Remnants

Ep. 10

Yellow-Green Suffering World

Ep. 11

Indigo-Green Vortex

Ep. 12

Faded-Red Conflict

Ep. 13

Pure-White Embrace

OVA
(Movie)

The Movie