Battle Athletes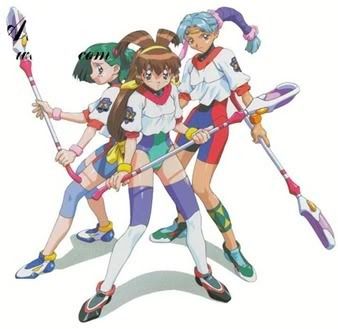 Battle Athletes ~
Akari Kanzaki, the daughter of former Cosmo Beauty, Tomoe Midou, is going to the University Satellite as her
story begins. Three students each year are chosen to go there. As Akari arrives, she gets lost finding her room
and finds Anna being slaped around by Mylandah Arkar Walder. Both girls feeling hopeless, Kris Christopher,
their third classmate, saves both of them. When they get back to the room, they all want to be the top team to
win and race against each other in the finals. They must win so many games to stay and fight in the finals. As
time goes on, Akari's team is fighting to win, but Mylandah is fighting to keep them out of the finals, to get revenge
for what happened before. Will they defeat her and go to the Finals? Who will get to go to the finals and compete
against each other? Who will be the next Cosmo Beauty?


Battle Athletes Victory ~
Battle Athletes takes place in the far future of the year 4998 and takes place after a tumultuous period for humanity.
Wars nearly devastated the entire planet (first between humanity and later against an alien race). The war against
the aliens has lasted for a long period of time, and eventually became a contest of physical strength after negotiations
between both sides. Peace fell over the Earth once again when a human competitor won the historic competition.

Presently, a competition known as the "Cosmic Beauty" has become all the rage around the world, and is held
at the famous University Satellite. Many girls from around the world gather at this special event to compete for this
prestigious title. The story begins with Akari Kanzaki, the daughter of a past Cosmic Beauty. Hoping to follow in her
mother's footsteps, she trains to compete in the games. However, the road to victory is a long and rigorous one. Will
Akari live her dream and come out on top?
Title

Episodes

Format
Language
Battle Athletes

1-2

DVD

Dub/Sub/Raw

3-4

DVD

Dub/Sub/Raw

5-6

DVD

Dub/Sub/Raw

Battle Athletes Victory

1-4

DVD

Dub/Sub/Raw

5-7

DVD

Dub/Sub/Raw

8-10

DVD

Dub/Sub/Raw

11-13

DVD

Dub/Sub/Raw

14-16

DVD

Dub/Sub/Raw

17-19

DVD

Dub/Sub/Raw

20-22

DVD

Dub/Sub/Raw

23-26

DVD

Dub/Sub/Raw
Japanese Name

English Name

Total Episodes

Total OVAs

Completed?

Battle Athletes

Battle Athletes

6

Yes

Battle Athletes Daiundokai

Battle Athletes Victory

26

Yes
Battle Athletes
Season

Series

Episode Name

OVA

Ep. 1

Chrinicle Beginning

Ep. 2

Oath Entrant

Ep. 3

Screaming Advance

Ep. 4

Match Unexpected

Ep. 5

Objective Tension

Ep. 6

Stage Yonder

Victory!

Ep. 1

Ready, Go!

Ep. 2

Kowloon's Attack!

Ep. 3

The Night Of Woong-A-Ji!

Ep. 4

My Rival

Ep. 5

Arrogance

Ep. 6

The Return Home

Ep. 7

Lamentation

Ep. 8

The Sinking Talent

Ep. 9

The Thing On The Other Side

Ep. 10

The Promise Resurrected

Ep. 11

Girl Meets Girls

Ep. 12

There Go The Three!

Ep. 13

There Go The Three Again!

Ep. 14

There Go The New Three!

Ep. 15

Light

Ep. 16

Shadows

Ep. 17

I'm Sorry

Ep. 18

Reason To Fight

Ep. 19

From Heart, To Heart

Ep. 20

Friend

Ep. 21

Save The Last Dance For Me

Ep. 22

Farewell & Introductions

Ep. 23

Day Of Resurrection

Ep. 24

Cultural Catastrophe

Ep. 25

Oh God! The Evil Trap Of The Nerilians

Ep. 26

Goal!