Cowboy Bebop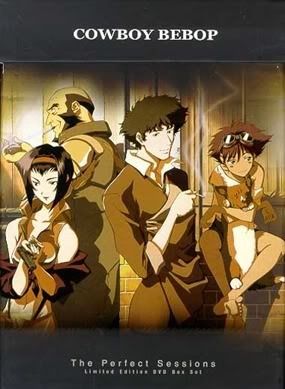 Cowboy Bebop ~
As mankind stumbled through the 21st century, it began to reach out for greener pastures. After a number of
early disasters, Astral Gate technology was perfected. Finally able to realistically approach the speed of light,
the asteroid belt and beyond came within reach, and a new era of frontier expansion began. But just like in the
Old West of the past, among the first to head out are the dregs of society: crooks, drug pushers, hackers, and
so on. At the same time, however, there was also another type of person: one who roamed the ranges looking
for whatever was there to take. Taking another page from the Old West, they called themselves Cowboys. The
year is now 2071 and the Cowboys are out on the range.

Cowboy Bebop is the story of the Cowboy starship Bebop as it be-bops its way through the solar system, hunting
heads and making do in the wild reaches of space where anything can happen. Inspired by the free-wheeling style
of Minston's Play House, a 1940's Harlem nightclub where Jazz players dueled each other with no regard for the
rules of the times, Cowboy Bebop literally swings its way from mood to mood and adventure to adventure. It is a
wild ride where jokes fly as well as lead, pretty faces can be hidden behind an ugly mug, and help and harm can
come where you least expect it.


Cowboy Bebop Movie: Knocking On Heaven's Door ~
As the Cowboy Bebop crew travels the stars, they learn of the largest bounty yet, a huge 300 million oolongs.
Apparently, someone is wielding a hugely powerful chemical weapon, and of course the authorities are at a loss
to stop it. The war to take down the most dangerous criminal yet forces the crew to face a true madman, with
bare hope to succeed.

Note: This movie was noted to be taken place between eps. 22 and 23 of the Series.
Title

Episodes

Format
Language
Cowboy Bebop

1-9

DVD

Dub/Sub/Raw

10-18

DVD

Dub/Sub/Raw

19-26

DVD

Dub/Sub/Raw

Cowboy Bebop: Knocking On Heaven's Door

Movie

DVD

Dub/Sub/Raw
Japanese Name

English Name

Total Episodes

Total Movies

Completed?

Kauboi Bibappu

Cowboy Bebop

26

Yes

Kauboi Bibappu:
Tengoku no Tobira

Cowboy Bebop:
Knocking On Heaven's Door

1

Yes
Cowboy Bebop
Season

Series

Episode Name

Movie

Ep. 1

Asteroid Blues

Ep. 2

Stray Dog Strut

Ep. 3

Honky Tonk Women

Ep. 4

Gateway Shuffle

Ep. 5

Ballad of Fallen Angels

Ep. 6

Sympathy for the Devil

Ep. 7

Heavy Metal Queen

Ep. 8

Waltz for Venus

Ep. 9

Jamming with Edward

Ep. 10

Ganymede Elegy

Ep. 11

Toys in the Attic

Ep. 12

Jupiter Jazz Part 1

Ep. 13

Jupiter Jazz Part 2

Ep. 14

Bohemian Rhapsody

Ep. 15

My Funny Valentine

Ep. 16

Black Dog Serenade

Ep. 17

Mushroom Samba

Ep. 18

Speak Like a Child

Ep. 19

Wild Horses

Ep. 20

Pierrot le Fou

Ep. 21

Boogie Woogie Feng Shui

Ep. 22

Cowboy Funk

Movie

Knocking On Heaven's Door

Ep. 23

Brain Scratch

Ep. 24

Hard Luck Woman

Ep. 25

The Real Folk Blues Part 1

Ep. 26

The Real Folk Blues Part 2

Special

Mish-Mash Blues