Fushigi Yugi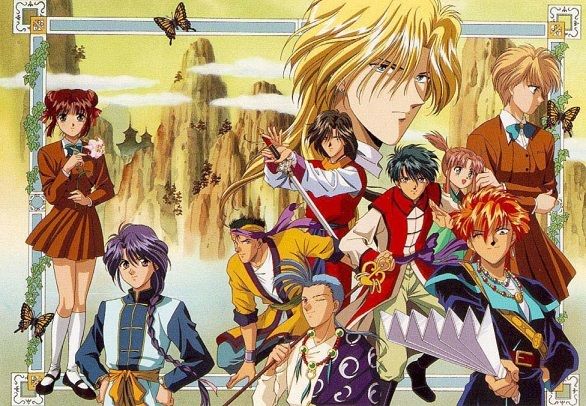 Fushigi Yugi ~
Two friends at a library are lead by a illusion of a pheonix to a restricted room where a mysterious book
called "The Universe Of Four Gods" falls t their feet. Picking up the book, they begin to read the book
and are transported into the book where the boundaries between fiction and reality become hazy as
they meet new friends, enemies and loved ones.

Fushigi Yugi OVA 1-3 ~
Miaka, Tamahome, Keisuke and Tetsuya visit the grave of Byakko no Miko (Suzuno Osugi). She is pretty
much like Miaka, except with the love of Tamahome, Miaka and Tamahome can cross the world inside the
book. However, as Miaka and others decided to move and visit the grave of Genbu No Miko (Takiko Okuda),
Tamahome is suddenly surrounded by red light and being pulled back into the world inside the book, in fact
he is back in Konan Country.
Title

Episodes

Format
Language
Fushigi Yugi

1-9

DVD

Dub/Sub/Raw

10-18

DVD

Dub/Sub/Raw

19-26

DVD

Dub/Sub/Raw

27-36

DVD

Dub/Sub/Raw

37-45

DVD

Dub/Sub/Raw

46-52

DVD

Dub/Sub/Raw

Fushigi Yugi OVA 1 & 2

1-3, 1-4

DVD

Dub/Sub/Raw

Fushigi Yugi OVA 2 & 3

5-6, 1-4

DVD

Dub/Sub/Raw
Japanese Name

English Name

Total Episodes

Total OVAs

Completed?

Fushigi Yugi

Fushigi Yugi: The Mysterious Play

52

13

Yes
Fushigi Yugi
Season

Series

Episode Name

OVA

Ep. 1

The Girl of Legend

Ep. 2

Priestess of Suzaku

Ep. 3

The Seven Stars of Suzaku

Ep. 4

Missing Love

Ep. 5

Bewildered Heartbeat

Ep. 6

Even If I Die...

Ep. 7

Going Home

Ep. 8

Brief Parting

Ep. 9

Enemies Unseen

Ep. 10

Looking For Yui

Ep. 11

Priestess of Seiryuu

Ep. 12

Only You

Ep. 13

For the Sake of Love

Ep. 14

Wolf in the Fortress

Ep. 15

The City of Resurrection

Ep. 16

Battle of Sorrow

Ep. 17

Magic Flute

Ep. 18

Love Trap

Ep. 19

Shattered Love

Ep. 20

Unreachable Hope

Ep. 21

To Protect You

Ep. 22

I'll Never Leave You

Ep. 23

Shadow of Intrigue

Ep. 24

Resolution

Ep. 25

Love & Sorrow

Ep. 26

Star Festival

Ep. 27

Tombstone Oath

Ep. 28

The Ancient Path

Ep. 29

Mysteries Afoot

Ep. 30

The Flash of Battle

Ep. 31

Whirlpool of Doubt

Ep. 32

To Die for the Star of Suzaku

Ep. 33

Nuriko, the Eternal Farewell

Ep. 34

Guardians of Ice

Ep. 35

Hell's Mirage

Ep. 36

Trampled Love

Ep. 37

Bewitched Warmth

Ep. 38

Dawn of the Heart

Ep. 39

Bewitched Illusions

Ep. 40

Deceptive Love

Ep. 41

Sunlight of Rebirth

Ep. 42

Unbreachable Wall

Ep. 43

Farewell Reunion

Ep. 44

Moment of Battle

Ep. 45

Divergent Light

Ep. 46

Boy of Fact & Fiction

Ep. 47

Repose of the Soul's Light

Ep. 48

Even Wagering on the Life

Ep. 49

Wedding Celebration

Ep. 50

Atonement

Ep. 51

Entrusted Hope

Ep. 52

For My Loved One

OVA 1

Ep. 1

Lost Ties

Ep. 2

Sorrowful Flash

Ep. 3

Parting... and Then

OVA 2

Ep. 1

Enchantment's Quickening

Ep. 2

Child of Silence

Ep. 3

Manifestation of Rebirth

Ep. 4

The Flame of Friendship

Ep. 5

The Transience of a Water Mirror

Ep. 6

To Be With You Tomorrow

OVA 3

Ep. 1

The Legend Unfolds...

Ep. 2

Desert Quest

Ep. 3

Rebirth of the Seven Stars

Ep. 4

The Advent of Suzaku