Hellsing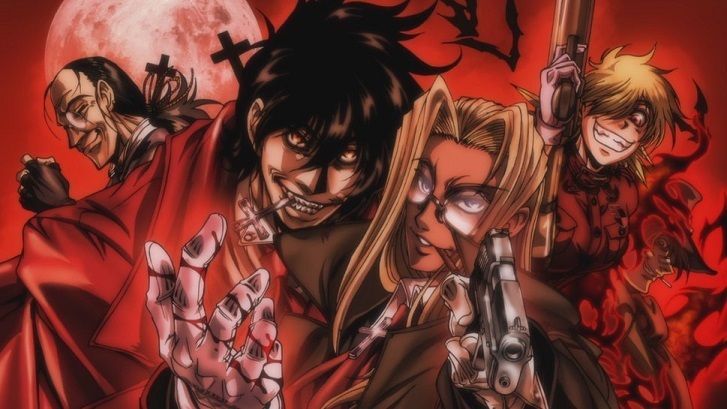 Hellsing / Hellsing Ultimate ~
Hellsing Agency is a group of fighters that protects Great Britain and the Anglican Church from
vampires and ogres. Led by Integra Hellsing, the heiress of the legendary Hellsing Family, the
agency sets on the crusade with Alucard, a renegade vampire who fights for humanity.

Note: Hellsing Ultimate is based off the Manga. Hellsing: The Dawn is a prequel to Hellsing.

Title

Episodes

Format
Language
Hellsing

1-7

DVD

Dub/Sub/Raw

8-13

DVD

Dub/Sub/Raw

Hellsing Ultimate

1-2
1-4

DVD
Blu-Ray

Dub/Sub/Raw

3-4

DVD

Dub/Sub/Raw

5-6
5-8

DVD
Blu-Ray

Dub/Sub/Raw

7-8

DVD

Dub/Sub/Raw

9-10

DVD
Blu-Ray

Dub/Sub/Raw
Japanese Name

American Name

Total Episodes

Total OVAs

Completed?

Herushingu

Hellsing

13

10

Yes

Herushingu: The Dawn

Hellsing: The Dawn

3

No
Hellsing
Season

Series

Episode Name

OVA

The Dawn

Ep. 1

Episode I

Ep. 2

Episode II

Ep. 3

Episode III

Hellsing

Ep. 1

The Undead

Ep. 2

Club M

Ep. 3

Sword Dancer

Ep. 4

Innocent As A Human

Ep. 5

Brotherhood

Ep. 6

Dead Zone

Ep. 7

Duel

Ep. 8

Kill House

Ep. 9

Red Rose Vertigo

Ep. 10

Master of Monster

Ep. 11

Transcend Force

Ep. 12

Total Destruction

Ep. 13

Hellfire

Ultimate

Ep. 1

Episode I

Ep. 2

Episode II

Ep. 3

Episode III

Ep. 4

Episode IV

Ep. 5

Episode V

Ep. 6

Episode VI

Ep. 7

Episode VII

Ep. 8

Episode VIII

Ep. 9

Episode IX

Ep. 10

Episode X