Kiddy Grade / Kiddy Girl-And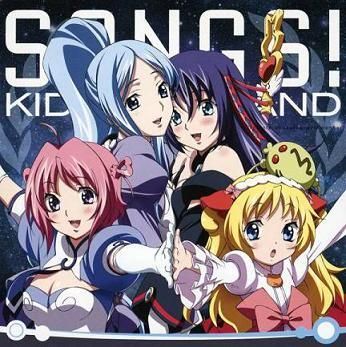 Kiddy Grade ~
In the future mankind has traveled and colonized a massive number of worlds. Unfortunately, disagreements between
galactic civilizations tend to get out of control. That is where G.O.T.T. (Galactic Organization of Trade and Tariffs)
comes in. It's their job to insure peace and stability throughout the galaxy. Their trump cards are ES (Encounter of
Shadow Work) Members, who are agents with special abilities used in order to get the job done.

Kiddy Grade focuses on our two young heroines, Eclair and Lumiere. The beautiful Eclair has the ability to use
"Power" which gives her Super Strength and lipstick capable of becoming a deadly whip, and Lumiere has the ability
to hack into any type of technology. Together, they try to right the wrongs of the galaxy. But they soon discover that
things aren't always what they seem.


Kiddy Girl-And ~
This, the sequel to the original Kiddy Grade, takes place 25 years after Eclair and Lumiere restored peace to the galaxy.
Now, chaos has once again broke out and now two new heroines, Ascoeur and Q-geuille, have stepped up to the plate.
Working for a galactic government, they are now training to become members of ES just like heroes before them!
Title

Episodes

Format
Language
Kiddy Grade

1-7

DVD

Dub/Sub/Raw

8-13

DVD

Dub/Sub/Raw

14-19

DVD

Dub/Sub/Raw

20-24

DVD

Dub/Sub/Raw

Kiddy Girl-And

1-12

DVD

Sub/Raw

13-24

DVD

Sub/Raw
Japanese Name

English Name

Total Episodes

Total Movies

Completed?

Kidi Gureido

Kiddy Grade

24

3

Yes

Kidi Gureido

Kiddy Girl-And

24

Yes
Kiddy Grade / Kiddy Girl-And
Season

Series

Episode Name

Ep. 1

Depth/Space

Ep. 2

Tight/Bind

Ep. 3

Prisoner/Escort

Ep. 4

High/Speed

Ep. 5

Day/Off

Ep. 6

Twin/Star

Ep. 7

Trial/Child

Ep. 8

Forbidden/Instrument

Ep. 9

Mirage/Snare

Ep. 10

Rebirth/Slave

Ep. 11

Set/Free

Ep. 12

Frozen/Life

Ep. 13

Conflict/Destiny

Ep. 14

Steel/Heart

Ep. 15

Break/Down

Ep. 16

Look/Back

Ep. 17

Phantasm/Reborn

Ep. 18

Unmasked/Face

Ep. 19

Take/Revenge

Ep. 20

Lost/Days

Ep. 21

Nouvlesse/Ark

Ep. 22

Demolition/Titan

Ep. 23

Annihilation/Zero

Ep. 24

As Time Goes By

Girl-And

Ep. 1

Lucky Item

Ep. 2

Sweet, Trap

Ep. 3

The Worst Compatibility?

Ep. 4

Babysitting Special Duty

Ep. 5

Ghosts Of The GOTT

Ep. 6

Suspicion Of The Bureau Chief's Office

Ep. 7

The 2 We Admire

Ep. 8

G-Society

Ep. 9

Memorial Ceremony

Ep. 10

The 2 Who Lived

Ep. 11

Shadow Worker

Ep. 12

The Space Frozen In Time

Ep. 13

Vacation

Ep. 14

Moment Of Encounter

Ep. 15

A Bad Dream

Ep. 16

Cold Tears

Ep. 17

Unknown Name

Ep. 18

Sister Princess

Ep. 19

Partner

Ep. 20

The Real Me

Ep. 21

Memories Return

Ep. 22

Time Begins to Flow

Ep. 23

Feelings Don't Stop

Ep. 24

Together Forever