Angel Beats!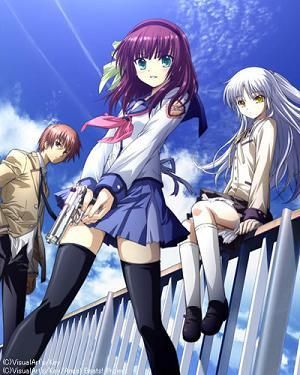 Angel Beats! ~
Angels have to fight for their fate and future in a world after death. Yuri is the leader of the Shinda Sekai Sensen,
she rebels against the god who has destined her to have an unreasonable life. The chairperson for the world after
death, Tenshi, battled against the SSS members. The SSS members had put the armed weaponry to use when forced
to battle it out against angels harnessing special powers.
Title

Episodes

Format
Language
Angel Beats!

1-5

DVD

Dub/Sub/Raw

6-10

DVD

Dub/Sub/Raw

11-13, OVA

DVD

Dub/Sub/Raw

OVA 2

DVD

Raw
Japanese Name

English Name

Total Episodes

Total OVAs

Completed?

Enjeru Bitsu!

Angel Beats!

13

2

Yes
Angel Beats!
Season

Series

Episode Name

OVA

Ep. 1

Departure

Ep. 2

Guild

Hell's Kitchen

Ep. 3

My Song

Ep. 4

Day Game

Stairway to Heaven

Ep. 5

Favorite Flavor

Ep. 6

Family Affair

Ep. 7

Alive

Ep. 8

Dancer in the Dark

Ep. 9

In Your Memory

Ep. 10

Goodbye Days

Ep. 11

Change the World

Ep. 12

Knockin' on Heaven's Door

Ep. 13

Graduation