Chobits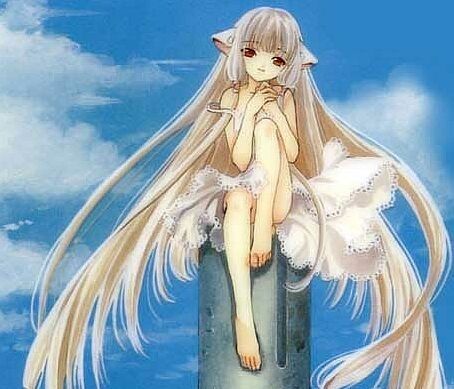 Chobits ~
Chobits is the story of an 18 year old boy named Hideki Motosuwa who grew up on a farm and wanted to go
to college. But unfortunately, he was rejected, and so Hideki decides to go to a prep school so that he can
study hard and get into college. Then one night, as Hideki is walking home, he finds a Persocom (a personal
computer android of sorts) in a dumpster. But, when he turns her on, all she can say is "chii". And thus begins
the funny story of Chi and Hideki.


Title

Episodes

Format
Language
Chobits

1-7

DVD

Dub/Sub/Raw

8-14

DVD

Dub/Sub/Raw

15-21

DVD

Dub/Sub/Raw

22-24, OVA

DVD

Dub/Sub/Raw
Japanese Name

English Name

Total Episodes

Total OVAs

Completed?

Chobittsu

Chobits

24

1

Yes
Chobits
Season

Series

Episode Name

OVA

Ep. 1

Chi Awakens

Ep. 2

Chi Goes Out

Ep. 3

Chi Learns

Ep. 4

Chi Goes on Errands

Ep. 5

Chi Finds

Ep. 6

Chi Weakens

Ep. 7

Chi Works

Ep. 8

Chi Bewildered

Ep. 8.5

Shinbo and Sumomo Chat

Ep. 9

Chi Buys

Ep. 10

Chi Meets

Ep. 11

Chi Confirms

Ep. 12

Chi Plays

Ep. 13

Chi Goes to the Ocean

Ep. 14

Chi Entertains

Ep. 15

Chi Doesn't Do Anything

Ep. 16

Chi Provides

Ep. 16.5

Minoru and Yuzuki Chat

Ep. 17

Chi Helps

Ep. 18

Chi Disappears

Ep. 18.5

Minoru and Yuzuki Chat

Ep. 19

Chi Waits

Ep. 20

Chi Wants

Ep. 21

Chi Answers

Ep. 22

Chi Wears And Takes Off

Ep. 23

Decides

Ep. 24

The Person Only For Chi

Ep. 24.5

Hibiya and Kotoko Chat

OVA

Sumomo and Kotoko Deliver